2014 Ford Focus near Cincinnati, OH
If you are someone who is the indecisive type, the 2014 Ford Focus near Cincinnati, OH at the Mike Castrucci of Alexandra showroom, is likely to give you fits. Like last model-year's predecessor, the 2014 Ford Focus is one of the most flexible compact cars produced by any automotive manufacturer. It can be had as a sedan, as a hatchback and as a so called, high-performance "hot hatch" with a specifically designed turbocharged engine. There is easily a version of the 2014 Ford Focus near Cincinnati, OH that can fit the needs of someone looking for a compact vehicle.

Where the 2014 Ford Focus really starts to separate itself from the rest of the compact cars on the market is in the interior design and layout of the vehicle. Just about every surface and line of the new Ford Focus gives off the feeling of a vehicle that should be priced tens of thousands of dollars higher. When combined with the exciting and dynamic handling profile that puts the 2014 Focus on par with anything from Europe and it is easy to see why this car has experienced a resurgence in popularity as of late.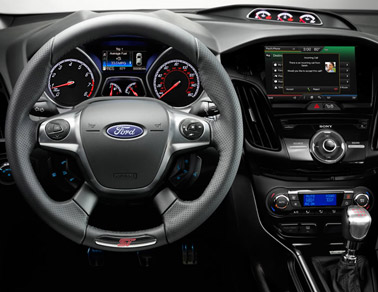 Power options abound for 2014 Ford Focus
When somebody chooses to take home a 2014 Ford Focus near Cincinnati, OH from Mike Castrucci of Alexandria, they will have the option of any of a few engine choices. The base trim in the 2014 Focus (sedan and hatchback) is a 2.0-liter, four-cylinder engine that puts out 160-horsepower and can be outfitted with a either a five speed manual transmission or a six-speed automatic. The new Ford Focus is also one of the most fuel-efficient vehicles on the road today with top-end Environmental Protection Agency estimates nearing, and in some versions breaking, the vaunted 40-mile per gallon-mark.

For those that really have a keen eye trained on fuel-economy, there is the Focus Electric as an option. This all-electrically powered car is motivated by a 107-kilowatt electric drive motor that is the equivalent of 143-horsepower. The energy for that comes from a 23 kilowatt/hour lithium-ion battery pack. The EPA estimates that the 2014 Ford Focus Electric has an effective range of about 76 miles before needed to be recharged.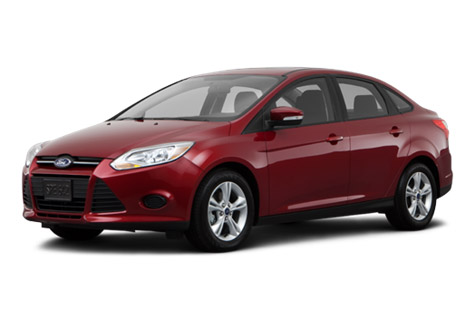 What to expect from the 2014 Ford Focus
If the last few iterations of the Ford Focus have proven anything, it's that just because someone is looking for a compact car that is going to be incredibly fuel-friendly they don't have to be bored behind the wheel. As we have mentioned earlier, first-time drivers of the 2014 Ford Focus will be more than pleasantly surprised with how the car comports itself around town, especially around corners. For the maximum amount of performance to be had in the 2014 Ford Focus, you can schedule a test drive of the ST trim that offer more than 200-horsepower and sport-tuned suspension.
Schedule Testdrive