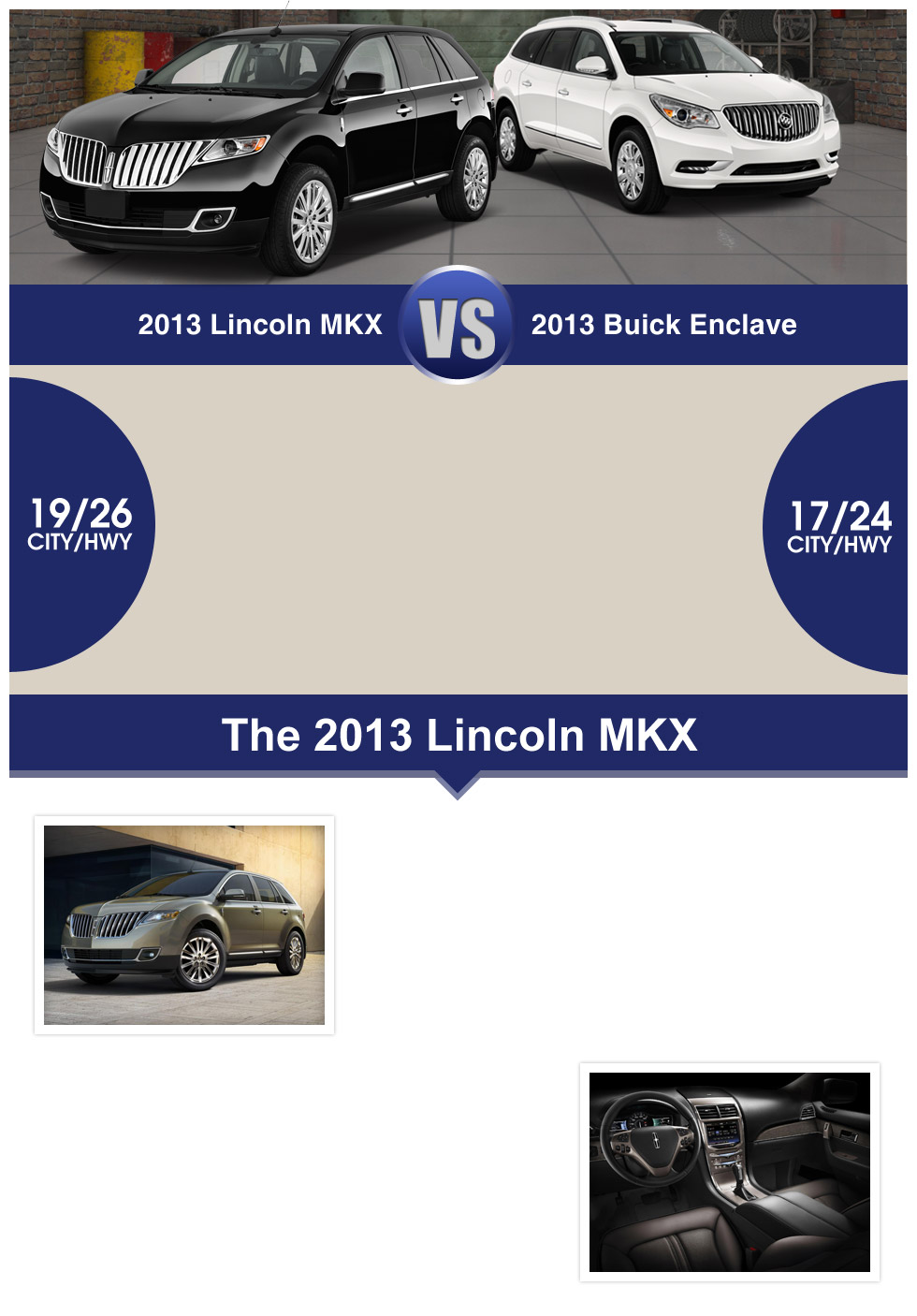 With the always growing popularity of the crossover SUV, it stands to easy reason that competition in the luxury crossover SUV market could be best described as heated. Two of the leaders in that particular automotive segment that we are comparing today are the 2013 Lincoln MKX vs. the 2013 Buick Enclave. The Lincoln and Buick badges have each stood for luxury, and the very top of the line luxury, at some point in their storied histories. Now is your chance to look at each of these vehicles in a side by side comparison.

The 2013 Lincoln MKX takes advantage of the fuel-efficiency increases its parent company, Ford, has made with its larger engines. The Lincoln MKX is powered by a 3.7-liter, V-6 engine that makes 305-horsepower and still gets 19 miles per gallon in the city and 26 miles per gallon in highway driving conditions with its front-wheel drive model. All-wheel drive versions get 17 mpg (city) and 23 mpg (highway).
On the other side, the 2013 Buick Enclave has a 3.6-liter, V-6 with 288-horsepower available that gets 17 mpg (city) and 24 mpg (highway) in its front-wheel drive models and the all-wheel drive versions drop one and two miles per gallon in each category, respectively.

The 2013 Lincoln MKX comes with quite the impressive list of standard features, some of which can't be had on the Buick SUV unless you were to move up a trim model. Keyless ignition and entry, leather seats and driver memory functions are a few of the things that not available on the Buick Enclave that come standard on the Lincoln MKX. Another interesting feature that is unique to the Lincoln MKX and its sister vehicles, is the Lincoln MyKey system that allows the owner to program limits such as maximum speed and radio volume to help decrease the chances a new minted driver can get too out of control or become distracted.
To the Buick Enclave's credit, it is a slightly larger vehicle which does give it some extra space for cargo. However, the 2013 Lincoln MKX is no slouch in the cargo hauling arena, with its nearly 70 cubic-feet of cargo space. In terms of seating capacity, each vehicle should have no problem seating full-size adults in the rear seats. Both will offer those passengers plenty of leg and head room to be comfortable on longer trips and/or weekend getaways.

A common concern for first-time SUV buys is the level of noise in the cabin. Both vehicles' manufacturers have knocked it out of the park in terms of a quiet and comfortable ride. Anyone who takes either of these vehicles home can be assured the most noise they will here will be from any of the passengers asking, "Are we there, yet?" This was accomplished with a variety of sound dampening, proofing and insulation methods. Buick has always been a strong entrant for vehicles with quiet cabins and the Enclave continues that tradition. Lincoln is a relative newcomer to the crossover SUV segment and has done a good job keeping outside noise to a minimum.
As we have stated earlier, the GM model is a bit bigger than its opponent in the 2013 Lincoln MKX vs. the 2013 Buick Enclave battle. That being said, you will likely find that the Lincoln MKX is a bit more nimble around corners and through the sometimes tightly spaced urban jungle. Drivers, especially those new to SUVs, will notice that the Lincoln MKX won't handle as boxy or as unforgiving as perception might lead you to believe, thanks to available stability controls. However, considering the weight behind the Enclave, it handles pretty well for a big fellow. Though some will still find more comfort in the slightly small Lincoln MKX and its aforementioned more composed handling characteristics.

New models of the Lincoln MKX will also feature an updated version of the MyLincoln infotainment system that is a one-stop location for music, hands-free calling and navigation. Drivers will have the option of listen to music in just about any format they like. The new Lincoln MKX will feature a CD player and have access to both terrestrial and satellite radio. For those with an mp3 player already loaded with music, there is an USB port to plug that device into the Lincoln MKX. Also, for the more sentimental among us, the 2013 Lincoln MKX will feature an SD card reader so you can take advantage of the technology in your Lincoln MKX to view the photos you may have just taken.